Through Thompson Rivers University, I have had the pleasure of having international students stay with me. This is a wonderful experience as I get to learn about other cultures and help the students learn about ours.
My first student, Ririko,  was from Kyoto, Japan. She taught myfamily a lot about Japanese culture and was a great fit with our family. Some of the main differences that she notedwas the different foods we ate. Of all the things she tried she loved chicken pot pie the most and also enjoyed the different types of Sushi we have in our restaurants. Some other differences she noted was the use of a dryer, the size of her bedroom and how late it stayed light out in the summer. I never really thought about these things and it was interesting to get her perspective on how things are in Canada. She also noted that people in Kamloops are very kind and willing to talk to her which was very different from the hustle and bustle of the city folk in her home city.
The next student to arrive, Marykarmen, was from Panama. She came in September and stayed until December. She was very excited to have a winter in Canada as she had never seen snow before. She taught us a lot about Panama and was also a great fit with our family. She loved to help around the house and made some great meals. She talked to us about the differences between Panama and Canada; the landscape, the weather and the people. She said she felt safe in Kamloops and really enjoyed everything it had to offer.
Our third student, Seina, was also from Japan. She was quite shy but very lovely to have in the house.  She was also from Kyoto and taught us even more about the culture.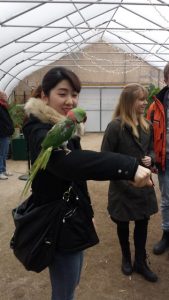 Having the students stay with my family really forced me to focus on my language and communication skills. Be it withbody language or words I really had to be mindful of what I was saying or doing to ensure that everyone was comfortable and happy.